Painting in Venice with Hazel Soan
In May 2019 Hazel Soan hosted a tutorial painting holiday to Venice. Painted by the great masters such as Canaletto, it is a destination that can overwhelm aspiring artists, but with Hazel's guiding hand she students overcome any inhibitions and reservations and capture the glory of Venice.
Venice appeals to artists because of its wonderful Baroque, Renaissance and Gothic architecture, its many canals (150), bridges (400) and piazzas, and the special atmospheric light. Venice has something for every student from flower-decked balconies to the view from the Accademia Bridge of the Grand Canal towards Santa Maria della Salute.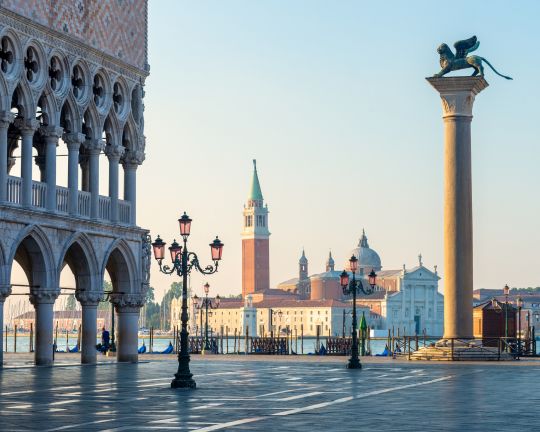 Central Venice is a compact area, encircled by the Grand Canal. At the heart of Venice is the glorious Piazza San Marco and apart from gondalas, vaporettos and water taxi's this central part of Venice is traffic-free.
Venice is above all a city for Venetians and you will find greengrocers, bread shops, the local fish market and "bacaro" (Venetian winebar) around the corner from the famous tourist sights like the Rialto Bridge and St Mark's Basilica. There are plenty of quieter canals and streets with and palazzos to be found across the Grand Canal on Dorsoduro and in the Frari Quarter and around Santa Maria Formosa and Campo del Ghetto Nuovo.
This painting holiday was hugely successful and culminated with La Biennale di Venezia