Painting in Paradise by Hazel Soan
In 2013 Hazel Soan hosted a watercolour painting holiday to Sri Lanka and discovered painting in paradise.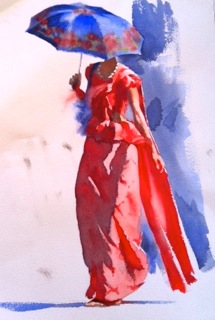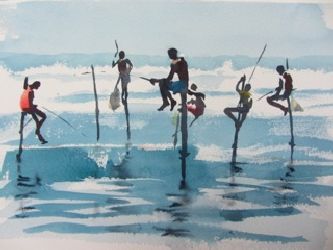 Formerly known as Ceylon, Sri Lanka is a wonderful intoxicating blend of India and the Far East with Hindu shrines and Buddhist statues, and colonial times with tea plantations and Dutch architecture. It is an emerald island with lush vegetation with a wild and rocky coastline dotted with lighthouses. The people are gentle and friendly and their gaily painted fishing boats, the stilt fishermen and street cricket matches make great painting subjects. This holiday as based in and around the Galle fortress on the south coast – a UNESCO World Heritage Site. Galle is a laid-back and enchanting place to wander around and inside its walled Fortress you'll find a maze of narrow streets and crumbling Dutch colonial architecture. In March the endangered Blue Whale can still be seen along this stretch of the coastline. Every day was spent painting with Hazel Soan in and around Galle – in the fortress, on the coast and inland.
Read Hazel Soan's blog on painting in paradise here